Contracting
Viticultura Contracting was estabalished in 2004, with the aim of providing new cost saving techniques to vineyards of all sizes. Central Otago vineyards provides specific naunces to the access of machinary and the ablity to provide cost savings. We have invested in new technology straight from Europe to ensure that our clients have access to only the best equipment and potential cost savings.
In getting to understand our clients requirements we have now started to quote our machine work based not only on a tractor hour but also providing a rate based on a per liner kilometer. In essecenec givng our clients the ability to understand the cost of the job prior to us starting.
We have gained enough understanding of Central Otago to acess that mother nature has a very strong control of our fruit quality and also ultimate cropping levels. With this in mind we have in place adequate machnary in each one of our sub regions to ensure that we can spray all of our clients vineyards as well as have a back up tractor in reserve, in the case of diesease outbreaks. We also can provide the ablity to spray under multi row nets if there is specific pressure at the end of the season.
If required we can provide machinary for converntional farming as well as organic farming of viticulture.
Our machinery is modern and meticulously maintained.
We have the ability to provide the following:
Winter
Barrel Prune
Under vine Sweeping
Mulching
Spring
Weed Spraying
Mowing
Canopy Spraying
Fertigation
Summer
Mowing
Canopy Spraying
Fertigation
Trimming
Autumn
Bird Net Application
Under net spraying
Bird Scaring
Hand harvesting equipment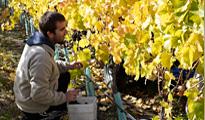 enquire about our Contracting services